Quality … Dependability … Pride in Workmanship
FREY'S Custom Gun Works was established in 1970, which means we have more than 40 years of experience Building and Modifying Firearms. We serve happy customers nation wide.
Custom work is completed by Ron Frey, Don Finch and Richard Cooper with pride of workmanship. Our specialties include
Precession Tactical / Competition / Hunting Rifles
AR-15 -223/5.56 / .308 Tactical/Varmint Semi Autos/
Pistols, Revolvers,1911 Autos/Glocks/Springfield XDS Carry/ Tactical/Competition /
Ruger Mark11/111 22 Rim-fires
Our Custom Firearms Have RAISED OVER 1/2Million Dollars for the Friends of NRA/ Rocky Mountain Elks Foundation, California Deer Association, Quails Forever and Many other Non Profit Organizations.
Use the form below to let our Gunsmith's know what your are interested in and to realize your dream. Our trusted CEO Katie Frey will get back to you asap. Meanwhile, be sure to check out the pictures of Our Custom work below the form.

| Click on picture to enlarge | Description | Built by: |
| --- | --- | --- |
| | Dalene | Restored by Ron Frey |
| | Semi Autos/Revolvers Custom Tunned/Accurized/Reliability Packages | Ron Frey and Don Finch |
| | Remington Long Range Hunter Ultra Light Package 300 WSM 7.2 Lbs Will Also Build to Your Specs! | Ron Frey Sr. Builder |
| | Built to Customers Specs For Accuracy/Reliability and Looks | Richard Cooper; Assistants: Ron Frey and Shawn Arthur; Paint/Dipping Specialist: Brian Nelson and Tim Graffix |
| | Long Range Tactical/Competition/ Hunter Bolt Action Rifles and Optics Built in Most Calibers For Your Personal Needs 1500 Yds No Problem | Ron Frey and Don Finch |
| | Custom Build Rifles the old fashion Way with a lot of TLC IN THE Beautiful Wood Stocks | Ron Frey Jr. Ron Frey Sr. and Don Finch |
| | 1022 Rifle Pistol and Rifle Painted & Dipped by Airtime Graffix | Ron Frey |
| | Ron and Kat's Personal Ar-15s – Custom Painted by Brian Nelson/Airtime Grafix (see below for contact info) | Richard Cooper |
All Firearms come with a 100% Satisfaction and Reliability Guarantee as long as I am alive.
I like to say Ron Frey Guaranteed!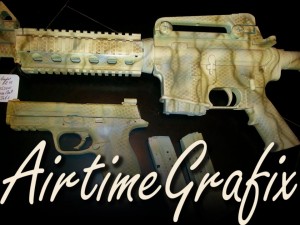 Airtime Grafix – Bryan Nelson
Mild to Wild Custom Painting and Art Dripping
(760) 793-0090
Call Bryan to for a quote to make YOUR OWN beautiful, personal standout firearm.