Ron Frey founded Sage Shooting Gun Range Facility some ten years ago. Located in Ridgecrest, CA, in an old gravel pit (affectionately called "The Pit"), Sage Shooting Gun Range Facility is home to over 500 members.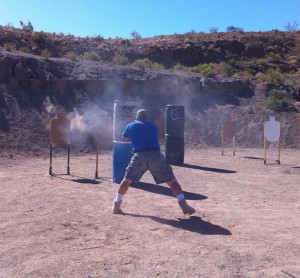 The Facility
This shooting range has ten pistol bays, each about 50 yards deep. It also has a 100-yard rifle and shotgun range, used either to sight in your rifle or shoot 5-Stand Shotgun. The entire range can be shut down and converted into a 475-yard precision rifle range. We feature a number of structures, such as an "orange house" made of 2x4s and see-through orange netting. We also have a "salon", which is a shoot house made from plywood and 2x4s.
But why take our word for it when you can see it for yourself! The following video is an aerial flythrough of Sage.
At the 100-yard rifle bay, we also have an elevated platform (towards the end of the video).
Because we are located in the High Desert in Ridgecrest Ca, we have over 300-plus days of sunshine, which means you can hit the range almost any weekend! It rarely rains.
Several of the bays contain a number of steel targets, such as a plate rack containing 6 targets. The 100-yard rifle bay has rifle-grade steel targets. You may shoot your carbine in the pistol bays, though we ask that you shoot only against paper targets as rifle rounds will almost certainly damage the steel. Almost all bays have a sun shelter and picnic table style benches, nice for resting your range bag and your behind.
Much More Freedom
Unlike other ranges that charge you an hourly rate, it is just $45 for the entire year! You do whatever you want as long as it is safe. For instance, most ranges will prohibit you from working out of the holster or firing more than 1 round per second. At Sage, this is alright!
Competitions
Sage Shooting Facility is home to more than just recreational shooters, hunters wanting to sight in their rifles, and weekend plinkers. Sage Shooting Facility is a very active club and is also home to numerous local competition-style shoots:
• .22 Steel: Every first Saturday of the month
• 5-Stand Shotgun: Every second and fourth Saturday of the month
• USPSA: Every third Sunday of the month
• Tactical Rifle: Every fourth Sunday of the month
As you can imagine, the shooting structures (orange house, salon, and elevated platform) are used heavily during these matches.
Ridgecrest, Ca has a very active sports shooting community. Each of these matches draw on average 15 to 20 people every week. These matches are open to the general public. Newbies are encouraged to attend and get their feet wet. The club has a number of free loaner firearms for use at these events. Just a warning: If you show up with the intention of watching a match, don't be surprised if we insist on handing you a gun and having you try it out first-hand instead!
Sage Gun Range is run solely by volunteers and volunteer efforts, these will be some of the finest individuals you will ever have the pleasure of meeting.
So what are you waiting for? Hop over to Sage Shooting Gun Range and check out what we have to offer you today!
While you're there, please sign up for Sage Gun Range Weekly Newsletter to keep informed on the latest matches and happenings.